Ardennes
Prices & availability Sunparks Ardennen


Prices & availability
Want to know how much it costs to stay in one of our villas during a specific period?
Then simply fill in the boxes with the number of people staying, the length and month of your stay and you'll receive offers for the village you've selected. The prices are given per villa and for the indicated period and exclude tourist tax.
Aucun hébergement n'est actuellement disponible pour cette période
Sunparks price conditions
Rental prices are in Euros and include for each villa:
VAT, in accordance with the regulations of the VAT regime of the country of your destination; cleaning up after you have left ("final cleaning");the use of a television; Aquafun tickets, valid for the duration of your stay.
Not included are:
Tourist taxes and environmental levies (tariff per person and per night). li>
Alternative holiday destinations
Oostduinkerke aan zee

Oostduinkerke aan zee is a dynamic Belgian city on the west coast, offering culture and entertainment for all ages, and boasting the biggest casino in Europe. More than just a seaside resort, Oostduinkerke has beautiful natural beaches and many walking and cycling routes to explore.

€ 579 € 399

Learn more

De Haan aan zee

The coastal De Haan holiday village is located within walking distance of the picturesque De Haan beach. Stay in comfortable holiday cottages with a private garden and never get bored thanks to the many indoor and outdoor activities. In addition, the Tourist Guide will provide you with plenty of information about possible excursions, including outings to nearby Oostende and Bruges.

€ 579 € 399

Learn more

Kempense Meren

Situated in the green Kempen region of Belgium, Kempense Meren is surrounded by idyllic natural beauty. Flander's biggest land-locked lake - bordering Sunparks holiday village - means there is no need to travel to the seaside for a beach holiday all the family will enjoy.

€ 319 € 259

Learn more
Address
Sunparks Ardennen
Rue de la Grotte 12 - 6690
Vielsalm Belgium
Plan your route
Map of the village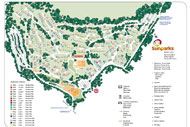 Want to know where the reception, parc center, Aquafun, sports center, restaurants, shops, Bike & Fun bicycle rent and your villa are located?
See the map